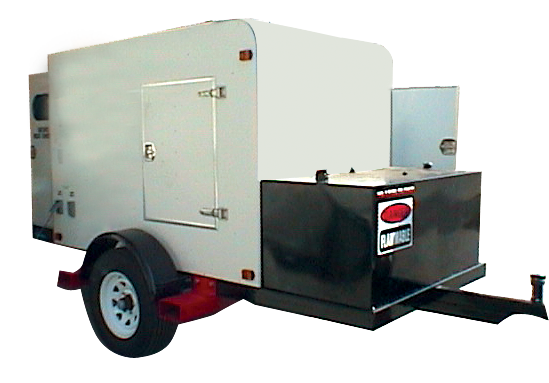 TOWABLE FUEL OIL HEATER FOR TEMPORARY HEATING
Towable Fuel Oil Heater Rentals Provide Temporary Heating for your construction projects and job site.
We can provide temporary hydronic heaters up to 500,000 BTUs which can be provided with generators and fuel storage tanks are available.
Temporary hydronic heaters are great for many temporary heating applications. They can be used in construction sites where ground thawing or concrete curing is required. They can also provide space heating for areas on job site. The heaters are capable of thawing anything that can be wrapped with hydronic hoses.
"Recently we utilized hydronic heaters for ground thawing in a residential subdivision in Long Island. The ground was frozen the customer placed the prefilled glycol hoses over the ground and covered them with blankets to keep the heat in and thaw the ground. This allowed the foundation work to be done allowing the construction schedule to be maintained without delay. We have also utilized the hydronic heaters for thawing of pipes that were frozen in facilities and plants as well as standard ground thawing for different applications."
EMERGENCY HYDRONIC HEATER EQUIPMENT RENTALS
Temporary hydronic heaters can be utilized for all construction work including wood floor installation, concrete pouring; Footings knee walls grade concrete pouring taping, painting, VCT Flooring, millwork and any other finishes that require heating. The units can be used for comfort heat if required. The hydronic heating system can also be used for emergency heat to a non-functioning boiler system by attaching directly to existing boiler lines.
TURN-KEY EMERGENCY HEATING SYSTEMS
Fans can also be provided with this equipment to move heat around the space. Setup is a breeze when you utilize this equipment. We can provide full turnkey heating systems to heat individual areas or whole buildings.
Other Things to Keep in Mind
All of the hydronic heating equipment is easily transportable and can be placed in areas for clean heat wherever it is required.
Call us at 516-277-6947 for a calculation of temporary hydronic heater needs.
We ship all Heating equipment on a moments notice. This equipment can condition spaces of any size and configuration. Emergency set up of equipment is available. 24 hour delivery and service is available.
The portable heaters are utilized on the following type of jobs:
Construction sites
Site work
Concrete curing
Ground thaw to allow for laying of building foundation.
Removal of snow and ice
Open air heating
Nearly 90% efficient
Can be used in the following construction applications
Office
Hospital
Residential
Hotels
Commercial
Industrial
Road work
Water heating
Can be used with:
Fuel storage
Generators
Turn-key available
Advantages of Using Hydronic Heaters
Large or small jobs ground thawing jobs
Excellent heat distribution for on grade concrete pouring even in the largest projects
Engineered systems for concrete pours of any size
Perfect for immediate curing and or thawing.
Perfect for Jobs with on grade or site work
Temporary hydronic heating systems or temporary heaters are important for maintaining the ground temperature and allowing thawing of ground, curing of concrete and providing supplemental heat as required on a job site.
Neat Heat provides temporary and portable heating, cooling and other services in the following New York Areas:
Westchester County, Suffolk County, Bronx, Nassau County, NYC, Queens, Brooklyn.