Please note all equipment is checked prior to delivery.
INDUSTRIAL STRENGTH DEHUMIDIFIER TROUBLESHOOTING GUIDE
Dehumidifier Troubleshooting
No power to the unit (indicator is no fans no lights)
Is unit plugged in? Is breaker reset?
Fan is running but unit does not seem to be drawing moisture
Is the hose kinked?
Is condensate pump working ok?  Try hitting the Pump button on the front of the unit, if it dispels any accumulated moisture, it's working fine
Is the temperature in the room too cold to effectively draw moisture out?
Unit Too Close to a Wall/Door
Give the machine room to breathe, don't position it right next to a wall or door
Clogged/Dirty Filters
Filters must be kept clean to allow unit to ventilate properly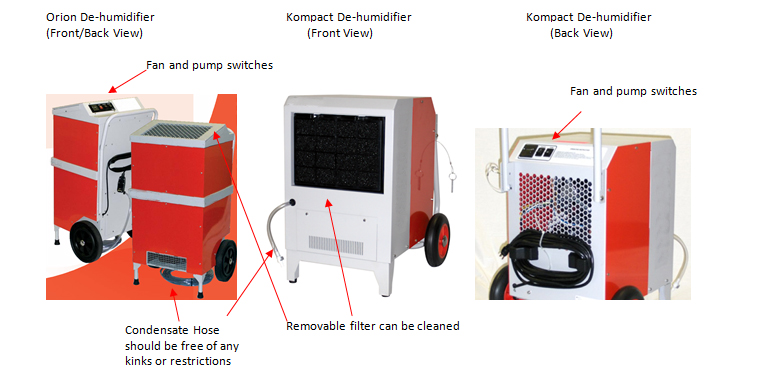 CALL NEAT HEAT & COOLING FOR TECHNICIAN SUPPORT 516-253-5309
Dehumidifier Troubleshooting Tips From Neat Heat & Cooling!
Neat Heat & Cooling the temporary climate control specialists supply all types of temporary heating and air conditioning equipment including electric heaters, air conditioners and dehumidifiers. The troubleshooting and operational tips listed above are provided purely as helpful and useful information only. Efforts are made to ensure that information is representative and accurate, but the equipment from different manufacturers may vary greatly from those viewed above. Neat Heat & Cooling shall in no event be held liable for any direct, indirect, incidental, consequential, or exemplary damages from the use of the operating or tips listed above.