CONSULTING SERVICES FOR NEW YORK CITY BUSINESSES UTILIZING HEATING & COOLING RENTAL EQUIPMENT
Neat Heat & Cooling provides consulting services to develop customized temporary heating and cooling solutions to suit your temporary climate control needs. Our consultants can walk through any job for you, sizing it and laying it out to provide the best solution and temporary equipment. Multiple factors need to be considered in providing optimum temporary climate control. Our experts access the space, look at factors entailed and recommend temporary heating and cooling solutions. We have used our climate control expertise to regulate the temperature, humidity level and air quality levels for thousands of applications, including many high profile job sites throughout the tri state NY Metropolitan region. For over 30 years Neat Heat and Cooling has specialized in providing temporary climate control services to multiple industries. We provide consultation for, but not limited to:
Office Buildings
Hospitals
Medical Facilities
Homes
Apartments
Libraries
Schools
Construction sites
Stores
Commercial Buildings
Apartment Complexes
Special Events
Public Sector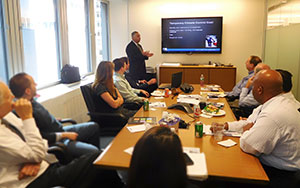 Let our highly trained consulting team evaluate your specific needs and develop and design a custom temporary climate control solution for you.