AIR SCRUBBING MACHINES FOR RENT IN NEW YORK CITY
Ready to work on a moments notice for your New York City jobsite
NEAT HEAT AND COOLING IS YOUR DIRECT SOURCE TO REMOVE MOLD PARTICLES, GASES OR CHEMICALS FROM THE AIR -  PERFECT FOR DRY AREAS THAT NEED TO RESTORE INDOOR AIR QUALITY
TEMPORARY NEW YORK CITY AIR SCRUBBERS FOR RENT
When in need for our New York City Air Scrubbers for rent they are essential to prevent infected dust and mold spores from spreading to clean locations and is often mandatory to ensure proper clean-up of air. You should be using our air scrubber rental machines throughout mold cleaning process. These machines are exceptionally vital for health and liability reasons. If mold or various other harmful products are launched in the air it could infect various other areas. Mold spores will travel in the air to other parts of a building and may start colonizing in clean carpets, hidden locations, clothing and furniture. Our New York City rental air scrubbers are commercial size high capability devices. We provide dual use devices as our equipment can be made use of both as air scrubbers and negative air devices.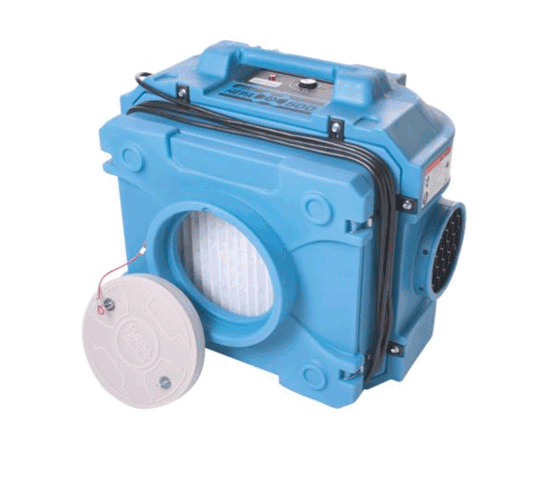 WHAT YOU HAVE TO KNOW ABOUT OUR AIR SCRUBBING MACHINES FOR RENT
Each machine can move, filter and tidy up to 2000 cubic feet of air per minute (CFM). We have triple stage filtration with our HEPA filters. Our HEPA filter will catch little bits such as mold, bacteria, asbestos, lead and more. Our New York City Air Scrubbers for rent filters 99.97 % of all particles to 3 micrometer in size. Air scrubbers will continuously cleanse the air and offer a clean, effective and healthy environment.
Customized and Wide Range of Air Scrubbers
With Neat Heat you can choose and rent from a wide range of air scrubbers. We provide you air scrubbers according to your needs and specifications which factors in: the size of the space you need to service, range and the type of contaminants that need to be removed from the given area.
Catering To All Your Air Scrubbing & Purification Needs
Our high quality air scrubbers are ideal for restoration jobs where airborne toxins are created during a restoration process. Our high functional air scrubbers are designed to remove dangerous gases, dust particles, fumes, mold, asbestos and chemicals from the air in any space.
You can also order our Air Scrubber Rentals for:
Water/Disaster/Fire Remediation
Dry-wall Dust Air Cleaning
Construction Clean Ups
Paint Fumes Air Cleaning
NEAT HEAT provides the following equipment for rent in the Tri-State Area:
Air scrubber and Negative air device HEPA filtration equipment for asbestos, mold and dust
Blowers, Fans & Negative Air Equipment Rental
Commercial Grade Dehumidifier Rental
Special daily, weekly or monthly rentals offered
"Recently we utilized our Hepa air filtration for a major construction project in a high end residential apartment on 5th avenue. The apartment building required negative air. The Hepa air filters were outfitted with ducts to exhaust the air and allow no infiltration of duct from the apartment to the rest of the building."
"Our portable Hepa filters and negative air units of various sizes have been utilized in the renovation of both Madison Square Garden and The United Nations. The units provided clean air which enabled the construction to continue in a timely manner."
Neat Heat & Cooling offers New York City air scrubber rental units that are commercial size, high capacity machines and each machine can move, filter and clean up to 2000 cubic feet of air per minute (CFM). This equipment has a triple stage filtration system with HEPA filters.
Full feature HEPA air scrubbing system
Airflow up to 2,000 cfm
Can be rolled or carried to any area
Turn-key service available


HEPA FILTER WILL CATCH SMALL BITS SUCH AS:

Mold
Bacteria
Asbestos
Lead
And more….

GET A FREE ESTIMATE ON AIR SCRUBBER RENTALS:

Making use of an New York City air scrubbers for rent during mold cleaning is exceptionally essential for health and liability reasons. If mold or other hazardous products are released in the air they might infect surrounding areas. Mold spores could travel through the air to various other parts of a structure and can colonize clothing and furniture in clean areas.

To get a free estimate, call (516) 277-6973.