NEAT HEAT & COOLING OFFERS HIGH VOLUME VENTILATOR FAN RENTALS FOR EXHAUSTING FUMES AND DELIVERING FRESH AIR SUPPLY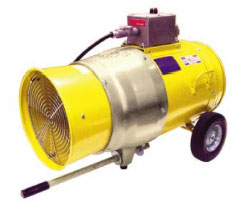 This high volume ventilator fan model offers a fixed guide vane design that delivers high volumes of air while maintaining static pressure for exhausting fumes and delivering fresh air. A rugged, durable, high-performance design makes our models ideal for ventilating tanks, process vessels, tank cars, manholes and other confined spaces.
VENTILATOR FAN RENTAL WITH CONVERTIBLE DESIGN:
WITH INLET SLEEVE INSTALLED
The flexible duct can be attached to inlet and outlet ends. This allows fumes to be exhausted from a confined space, or fresh air delivered from a remote area.
WITH INLET SLEEVE REMOVED
Cut-outs on inlet end of CV models are exposed for exhausting heavier-than-air fumes from the bottoms of tanks, vats, drums and other confined spaces.
These high volume portable ventilators can be used in refineries, chemical plants, steel mills, paper mills, utilities, fabrication shops, construction sites, railroads, airlines, shipbuilding, food and beverage processing, and a host of other industries.
General Applications —
Confined space fresh air supply
Fume removal (degassing)
Process cooling
Equipment cooling
Source capture fume exhaust or filtration
Personnel heat stress relief
Air curing and drying of paints and coating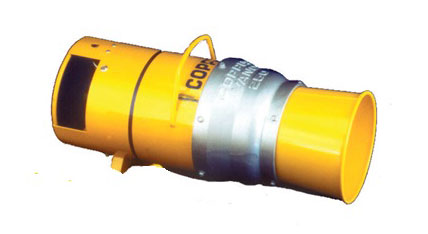 High volume ventilators for exhausting fumes and delivering fresh air supply.
Rugged, durable design with outstanding performance available for rent from Neat Heat & Cooling.
CALL US AT (516) 431-5550