Neat Heat and Cooling was contacted by a large municipality to provide approximately 100 temporary pedestal fans. Our portable fans were then deployed by the municipality to numerous polling stations (many of which were school gymnasiums and auditoriums) for a city wide election. The temporary fans were used to keep the spaces cool and comfortable for the public. Our temporary fans were an excellent option for increasing air circulation in an affordable way and delivering fast cooling for localized spaces. Neat Heat and Cooling delivered the portable fans in advance of the election and worked with the elections board to successfully tackle some challenging logistics. As part of our prompt and reliable delivery service, we retrieved the portable fans after the election was held and results were tallied up.
Pedestal Fans can be set up with extension cords and provide immediate cooling and ventilation.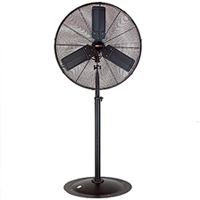 Learn more about Neat Heat & Cooling's industrial fan rentals.
24/7 EMERGENCY SERVICE AVAILABLE