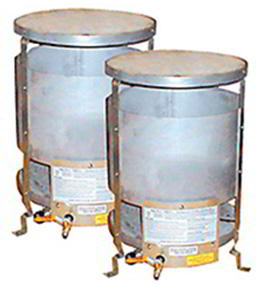 TEMPORARY NATURAL GAS & PROPANE DIRECT FIRED FAN FORCED HEATERS FOR RENT
Temporary Portable Heating ready to work on a moments notice for your jobsite.
Neat Heat is Your direct source for direct fired fan forced propane and Natural gas portable heaters.
Perfect for Construction sites, tight closures, tarped job sites that are open to the elements. Units are the highest efficiency on the market and reticulate heat for great efficiency.
RENTAL HEATERS, DIRECT FIRED HEATERS FOR NATURAL GAS AND PROPANE USAGE. TEMPORARY HEATING
Providing Temporary Heating Products for your construction projects.
We can provide Makeup air propane and natural gas temporary heaters from 500,000 to 1,000,000 BTUs units can be provided with generators and fuel storage tanks are available.
Propane and natural gas heaters great for many temporary heating applications. Because they re-circulate air they are efficient but require ventilation. Direct fired heaters can be used in construction sites that have a tight closure and are great for finishing work. They also can be used in tarped or open construction projects. They are perfect for the following job sites: commercial, residential, high-rises, Hospitals, post offices, government buildings retail stores office buildings, and more. The heaters we provide can be used in restoration projects and to assist in dehumidification. They can dry standing water, be used for flood cleanup and to assist in high humidity areas. 
Thousands of direct-fired natural gas & propane Heaters
TEMPORARY NATURAL GAS AND PROPANE DIRECT FIRED HEATERS
Can be aggregated to heat large jobs
Great for tarped areas and more open construction jobs
Great for drying
Good for closed job sites
Can be utilized with Propane tanks or building natural gas
Can be connected to auxiliary tank for continuous run time.
2,000,0000 and 4,500,000 BTUs
Flexible gas hose available
Units can be aggregated to heat jobs of any size
Units are located on the ground floor and can heat multi story buildings
Fans can be utilized in conjunction with heaters to distribute warm air
EMERGENCY INDIRECT HEATER EQUIPMENT RENTALS
Natural gas and propane direct fired heaters can be utilized for all construction work. Including wood floor installation, concrete pouring, taping, painting, VCT Flooring, millwork and any other finishes that required heating. The units can be used for comfort heat if required.
TURNKEY EMERGENCY HEATING SYSTEMS
Fans can also be provided with this equipment to move heat around the space. Setup is a breeze when you utilize this equipment. We can provide full turnkey heating systems to heat individual areas or whole buildings.
Other Things to Keep In Mind
Generators of all kW sizes are available to run this equipment as needed.
Units come in many configurations
All of the direct fired propane and natural gas temporary heating equipment is easily transportable and can be placed in areas for clean heat wherever it is required.
Ducting can be accomplished if required.
Cable, generators and electrical distribution can be provided to distribute electric as required to power heaters.
Call us at 516-277-6973 for a cubic foot calculation of temporary heating required for your job site.
We ship all Heating equipment on a moments notice. This equipment can condition spaces of any size and configuration.
Emergency set up of equipment is available. 24 hour delivery and service is available.
"Recently we utilized Direct fired Natural Gas units to heat a large project in the Bronx. This project was 300,000 Square feet of retail space. The units were aggregated to provide heat to various large areas. All heaters were located in the spaces to be heated with adequate ventilation. 1,000,000 BTU natural gas direct fired heaters were utilized for heating the space. Units were connected to the gas pipes for permanent system. All of the units were hard piped. Fans were provided to distribute the heat."
CALL US AT (516) 253-5309 TO SEE IF THIS HEATING EQUIPMENT WILL MEET YOUR NEEDS.
The portable heaters are utilized on the following type of jobs:
Construction sites
Concrete curing
Open air heating
Units cannot be utilized in occupied spaces
Nearly 100 Percent efficient
Can be used in the following Construction sites:
Office
Hospital
Residential
Hotels
Commercial
Industrial
Also known as
Direct fired heaters
Salamanders
Large volume temp heaters
Can be used with
Fuel storage
Permits
Generators
Turnkey available
Advantages:
Excellent heat distribution, even in the largest projects
Engineered systems for buildings of any size
99% efficient
Perfect for heating jobs large and small.
Perfect for Jobs with ventilation