IDEAL FOR SHORT-TERM PROJECTS
Mobile Containment Equipment and portable dust containment equipment is used to provide a productive, durable, job-flexible, safe and sustainable infection control solution that protects from dust and pathogens in critical, high-risk environments.
There are a number of projects that can benefit from a dust containment unit, not only for increased productivity and efficiency in healthcare facility renovation and maintenance work but also for infection control and patient safety. A dust containment unit separates unclean air from patient areas, which is essential to maintaining safety standards.
When working above suspended ceilings you want to prevent the spread of dust and hazardous particles. Specifically designed for performing above-ceiling tasks in sensitive environments
Dust containment is also helpful during electrical work. There is often a collection of dust on top of or inside light fixtures and electrical wiring panels, as well as long cables.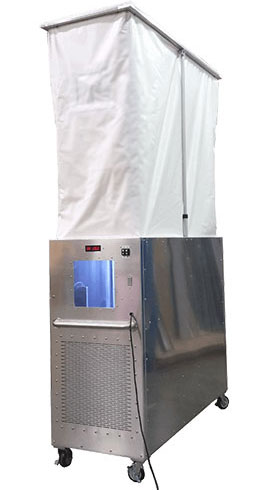 MOBILE CONTAINMENT EQUIPMENT HELPING HEALTHCARE FACILITIES AND CONTRACTORS:
Comply With Infection Control (ICRA) Guidelines
Protects Patients And Workers
Increase Productivity And Finish Projects Ahead Of Time
Save Money In The Process​
Standard Features of Our HEPA containment Equipment:
Structure- Fully boxed aluminum frame with caster and wheel assembly rated for 900 lbs. each. Total cart rated for 1500+ lbs. All four casters are non-marring, self-braking. Swivel locks on one end.
Prenium Door Package Includes- Lock and key set. Window. Work order/permit slip holder.
Filtration- Lab-Tested Design, individually tested units with certified testing results and documentation included. Medical grade 99.99+% at .03 microns. MERV 18 plus. Double gasketed. Fan rated at 750 CFM.
Electrical- Three-way electrical switch wired for 120 v. allows power to be safely controlled inside and outside the cart for best IC practices. Includes 25 ft. retractable extension cord, convenience outlets and lighting.
Enclosure- Adjustable, fabricated using a durable, healthcare approved, antimicrobial, anti-static, fire-resistant and easy to clean material – available in white or translucent. Each enclosure has Two pass-thru slips and clear zipping closed-top.
Interior Lighting- LED lighting package includes:
HALO lighting in the enclosure lights the work-area including the space above ceiling.
LED shelf light.
LED in-use light.
Safety Features Include:
Negative air indicator (manometer). Walk-off mat storage compartment below the door.
Air Quality Peace-Of-Mind
Applications:
Dust Containment Cable and Wire Installation
Infection Control and Prevention
Pneumatic Tubing Installation
Regulated Ceiling Access
Room or Wing Isolation
HVAC Projects
Light Replacement
Seismic Inspection
Low-Voltage Installation
Emergency Preparedness
Surge Protection
Plumbing Installation and Repair
Ceiling Tile Replacement
Electrical Work
Fire Damper & Firestopping Work
Device and Tool Disinfection
Nurse-Call Installation and Upgrade
Deployed In:
Health Care Facilities
Pharmaceutical Operations
Data Storage Centers
Animal Science Facilities
Medical Device Production
Semiconductor Manufacturing
Hospitality and Casino
Schools and Education
And more……