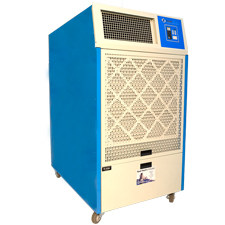 Neat Heat offers portable temporary Spot Air Conditioning Rentals, ready to work on a moment's notice for your job site.
Neat Heat is your direct source for spot air conditioner rentals.
PORTABLE AIR CONDITIONING AND SPOT AIR CONDITIONING RENTALS ARE GREAT FOR COOLING OF AREAS OF ALL SIZES
We can provide different size units that can be aggregated to cool any size space. These units can be utilized anywhere cooling is needed on an immediate or ongoing
basis. Emergency Cooling is one of our specialties we can even do installation and removal of equipment.
THE PORTABLE AIR CONDITIONING UNITS CAN BE USED IN OCCUPIED SPACES AND UNOCCUPIED SPACES
hospitals 
emergency rooms
offices
residential
high rises
government buildings
post offices   
basements
gyms
tents
party rooms
movies sets
industrial applications
warehouses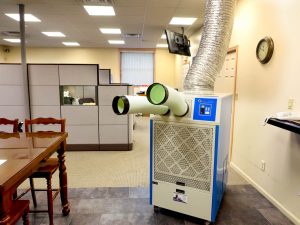 TEMPORARY SPOT AIR CONDITIONER RENTALS
1–10 tons of cooling can be rolled into any location
Equipment available for immediate delivery
Design-build service available
Perfect for large jobs, special events & temporary relief from the heat
Size (in.) / Weight (lbs.)
TZ-10A / 10,500
TZ-12A / 14,000
TZ-18A / 17,600
TZ-24A / 29,700
TZ-36A / 42,200
TZ-60A / 83,000
115/60/1/15 / 8.5
115/60/1/15 / 11.7
115/60/1/15 / 12.0
230/60/1/20 / 12.5
230/60/1/30 / 18.3
230/60/1/60 / 37.8
Mechanical
Electronic Prog.
Mechanical
Electronic Prog.
Electronic Prog.
Electronic Prog.
26x20x34 / 163
26x20x34 / 163
29x28x41 / 232
29x28x41 / 251
30x28x51 / 336
40x30x68 / 650
Spot Air Conditioner Accessories
Nozzle kit optimizes the ability to direct cool air precisely where needed.
The ceiling Discharge kit allows condenser air to be vented to the plenum area above a suspended ceiling.
Condenser return-air plenum allows supply-air to be ducted to the condenser coil.
The evaporator return-air plenum allows supply-air to be ducted to the evaporator coil.
Supply-duct adapter allows users to connect ductwork to unit's cold-air discharge.
Condensate pump kit automatically removes evaporator-coil condensation allowing continuous unit operation
Cord kit simplifies wiring for certain models by providing a plug and socket assembly that is wired directly to the unit and main power source allowing users to plug and unplug the unit easily.
TEMPORARY SPOT COOLERS AND PORTABLE AIR CONDITIONER FOR RENT
THE SPOT COOLERS WE PROVIDE ARE ALSO PERFECT FOR CONSTRUCTION OF BUILDINGS SO THAT YOU DO NOT HAVE TO DAMAGE OR UTILIZE THE BUILDING SYSTEM
Spot coolers can be used in the restoration business, mold remediation; the drying of standing water; flood cleanup; high humidity areas.
Portable air conditioning can be used to cool down server rooms or telephone closets.
These temporary air conditioners can be utilized for all construction work including but not limited to wood floor installation, taping, finishing, and concrete drying and cooling.
Fans can also be provided with spot coolers to help move cold air around.
Setup is a breeze when you utilize this equipment. Movin Cool units can also be provided to cool any area as required
CALL US AT 516.431.5550 TO SEE IF THIS TEMPORARY AIR CONDITIONING EQUIPMENT MEETS YOUR NEEDS
Hot areas are no match for the cooling ability of any of the spot cooling units. These units can be aggregated to provide cooling in all areas as required. No buckets to empty as the units can be supplied with integrated condensate buckets. Condensate hose can be provided and installed as needed.

We ship spot coolers and portable air conditioning equipment at a moment's notice. This equipment can condition spaces of any size and configuration. Emergency set up of spot coolers and portable air conditioning equipment is available
SOME FEATURES OF THE UNIT
High-efficiency air conditioner
110v and 220v units available
Units can be aggregated for any size space
Can be rolled or carried to any area
Installation service available
To provide you with the best service and quality climate control air conditioning equipment to condition your space. We can utilize this equipment to clean after floods, natural disasters, and for mold remediation.