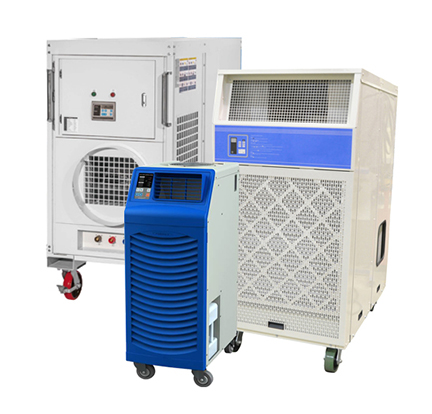 We offer portable temporary Spot Air Conditioning Rentals, ready to work on a moment's notice for any job. We are your direct source for spot air conditioner rentals, providing different size units that can be aggregated to cool any size space. These units can be utilized anywhere cooling is needed on an immediate or ongoing basis. Emergency Cooling is one of our specialties and we offer installation and removal of equipment when and if needed. We offer wide range of sizes that are used in various situations where temporary or localized cooling is needed.
These temporary air conditioners can be utilized for all construction work including but not limited to wood floor installation, taping, finishing, and concrete drying and cooling. In addition, our units can be used in the restoration business, mold remediation; the drying of standing water; flood cleanup; and high humidity areas. This equipment can condition spaces of any size and configuration. Our portable air conditioners and spot coolers are ideal for supplemental, emergency and temporary cooling across all industries. Fans can also be provided with spot coolers to help move cold air around.
PORTABLE AIR CONDITIONING AND SPOT AIR CONDITIONING RENTALS ARE GREAT FOR COOLING OF AREAS OF ALL SIZES
Our portable spot cooling units are designed to provide temporary or supplemental cooling in specific areas or localized spaces. They are useful in situations where traditional air conditioning systems are impractical or insufficient, such as server rooms, outdoor events, warehouses, offices, hospitals, and construction sites. When considering a spot cooler, it's important to assess the cooling requirements, space limitations, power supply availability, and any specific features needed for your intended application. Our temporary air conditioning consultants can: Identify required number and size of air conditioning units, recommend power ability you should use, recommend complementary equipment for better effectiveness, and provide a practical expectation of what these units can do for your situation. We have a team of highly skilled technicians ready to handle any need.
TEMPORARY SPOT AIR CONDITIONER RENTALS. TEMPORARY SPOT COOLERS AND PORTABLE AIR CONDITIONERS FOR RENT.

Our portable spot air conditioners come in a wide range of sizes that can be aggregated to cool any size space. Ranging from 1 Ton to 12 Ton of air cooled units for inside and limited outside applications. In addition, we offer 1 Ton to 5 Ton of water cooled units for inside applications where there are no venting options. For outside and limited inside applications we offer portable air conditioners. Our units are are perfect for situations where precise and temporary cooling is required, offering flexibility, portability, and targeted cooling to meet specific needs in a cost-effective manner.
Some key advantages in using temporary air conditioning:
• High-efficiency air conditioner
• 110v and 220v units available
• Units can be aggregated for any size space
• Can be rolled or carried to any area
• Design-build service available
• Perfect for large jobs, special events & temporary relief from the heat
• Equipment available for immediate delivery
• Easy Installation
• Versatile
We specialize in providing rental cooling units for:
• Special Events • Emergencies • TV Shoots • Construction Sites • Hospitals • Occupied Spaces • Unoccupied Spaces • Emergency Rooms • Offices • Residential • High Rises • Government Buildings • Post Offices • Basements • Gyms • Tents • Party Rooms • Movies Sets • Industrial Applications • Warehouses and Other Large Spaces • Outdoor Special Events • and more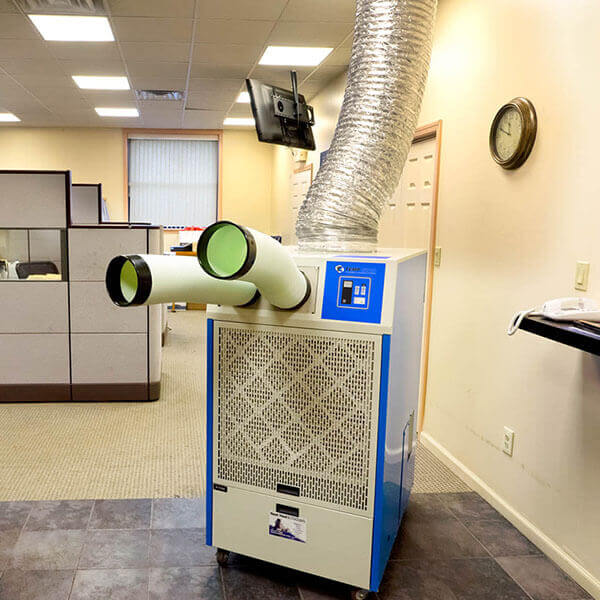 For over 30 years we have been industry leaders in providing temporary climate control services to the northeast. Neat Heat consistently delivers temporary HVAC services to keep our customers operating at full capacity. The Neat Heat Staff is available for all of your temporary climate control planning, consulting, design and equipment rental needs. You can count on us to help make your job easier.
• 24/7 service 365 days a year
• Emergency deliveries
• Installations of some equipment
• Rapid mobilization
• Diverse equipment fleet
• Equipment is easily transportable and can be scaled up or down for jobs of all sizes
• Highly trained sales and support teams
• Factory trained technicians
• Convenient billing options