Portable Air Conditioner Rentals
Neat Heat & Cooling is Your Direct Source for Temporary Portable Industrial Air Conditioner Rentals.
Whether your office, retail store, hospital rooms, or government buildings air conditioning system fails to function, breaks down or is being serviced, you can fill the need/gap immediately with Neat heat & Cooling's portable air conditioning units. We provide you both short-term and long-term air conditioner rental solutions at a cost effective rate, to help you keep your operations running without any interruption and/or disturbance. We also provide drop off and pick up services to your location.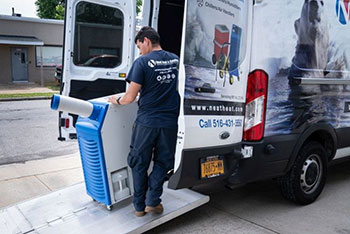 Neat heat & Cooling on Set
"We recently provided a  combination of portable air conditioners for a feature length movie production in Brooklyn, New York. The project ran 2 weeks and was run 10 hours per day. Neat Heat  provided the labor for set-up, start up and provided our technician to operate the equipment during the event. Fuel was also provided."
Call For Air Conditioning Rentals Today
Learn more about Air Conditioning Rentals. 
Learn more about Chillers/ Air Handlers/Water Tower Rentals.
Learn more about DX Air Conditioning Rentals.
Learn more about Spot Air Conditioning Rentals.
Learn more about Portable Air Conditioner Accessories.
Portable Air Conditioner rentals
WE SPECIALIZE IN PROVIDING RENTAL COOLING UNITS FOR:
special events
emergencies
tv/movie shoots
construction sites
hospitals
government building
industrial applications
high rises
basements
And More…..
Contact Neat Heat & Cooling For Emergency Cooling at (516) 253-5309