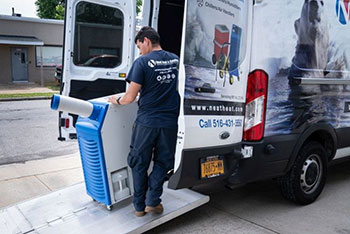 Are you hosting an important event? Perhaps it is a wedding, corporate event, music festival or another special occasion. Whether it is an indoor event or an outdoor event, having the right climate control can have a huge impact on event satisfaction. Temporary event heating will keep guests comfortable and satisfied and Neat Heat & Cooling is here to help. If you are hosting an event during the winter months, you want to make sure you have the right heating system in place at your venue. If your venue has no heating in place or perhaps their in-house system is not strong enough, we can help.
Neat Heat and Cooling can provide portable heaters for any venue. We can service a wide array of events and can support TV productions, movie productions and much more.
Our temporary portable heating units come in various sizes and are high efficiency. Our temporary heaters can be aggregated for any size space.
Let Neat Heat and Cooling assist you in making your event one to remember and a pleasant experience for your guests.
Special Event Heating and On-site Temporary Heating Services
Neat Heat's team of professionals also supports many Television and Movie Productions.
Neat Heat provides packaged Portable Heating Units, Temporary Heater rentals and on-site services for special events!