Temporary heat solutions are available when permanent systems fail.  When it comes to implementing a temporary heating solution, logistics are always the key consideration and challenge. Neat Heat & Cooling provides clients in the construction, retail, office, and industrial /manufacturing buildings with customized temporary heating equipment when permanent systems go offline during the winter months.  It is critically important to consult with a temporary climate control professional that can devise and implement the appropriate solutions.
Whether you need a short-term or long-term heat solution Neat Heat and Cooling can provide the relief you need. We also have TEMPORARY HEATING EQUIPMENT that is versatile enough for extremely large jobs.
We service small and large heating equipment needs starting with a variety of Electric Heaters, Natural Gas and Kerosene Heaters, Indirect Fired Heaters and Direct Fired Kerosene Heaters, Generators, Electric Heater / Generator Combo and Steam Tables on Wheels.
We Can deliver same day Heating solutions to your location!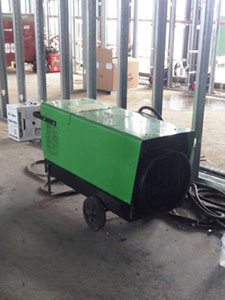 Temporary Portable Heat Equipment that is ready to work on a moment's notice is what you need.
Neat Heat and Cooling provides 24/7 emergency service.
Temporary heating solutions & equipment Delivered to you.