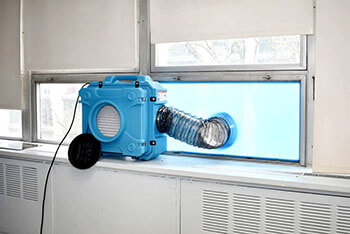 Are you doing renovation work and your objective is to minimize dust particles? Are you dealing with noxious odors from a fire or perhaps paint fumes? We recommend negative air machine rentals equipment and air filtration systems that are  tailored for such environments. When reviewing your needs, we will go through  certain questions that are designed to provide a clearer understanding of your environment and your site conditions.
In reviewing your requirements, we will take into account how many air changes per hour are desired /most suitable for your site conditions.  We will also help you determine the square footage (length x width x ceiling height) of the space you're seeking to improve the air quality in, and also take into account airflow losses such as duct or window leakage.
Negative Air Machine Rentals
Neat Heat and Cooling's team of highly trained sales professionals can assist you in properly sizing your air filtration requirements.  When used with the appropriate filters,  air scrubbers can work wonders.
We stock HEPA rental equipment of various sizes, ranging from the ultra – portable 500 CFM HEPA unit to the 1,000 CFM and 2,000 CFM size. Hepa filtration rentals are becoming increasingly popular for restoration projects including water damage & mold remediation.
If you are concerned that the air within your space is contaminated and your objective is to bring in fresh air, we may recommend certain ducting provisions along with the negative air equipment.
Emergency set up for  negative air machine equipment is available and can be done at the same time the equipment is delivered.
Learn more about HEPA Filtration System Rentals and Covid-19 here.
24/7 EMERGENCY SERVICE AVAILABLE