Looking for reliable and efficient cooling solutions for your commercial needs? Look no further and stay cool with Neat Heat & Cooling your go-to provider of top-notch temporary and portable cooling equipment for rent in the local area.
With scorching summers just around the corner, it's crucial to keep your business comfortable and conducive to productivity. Our range of cooling and air conditioning equipment is designed to meet your specific requirements, ensuring a cool and refreshing environment even during the hottest days.
Our extensive inventory includes a wide selection of cutting-edge cooling systems, from portable air conditioners to spot coolers and evaporative coolers. No matter the size or layout of your space, we have the perfect solution to keep temperatures in check and maintain optimal comfort.
Why choose Neat Heat & Cooling? We take pride in our commitment to excellence and customer satisfaction. Our equipment is meticulously maintained, guaranteeing reliable performance and energy efficiency. You can rely on us to deliver high-quality products that meet industry standards, ensuring your peace of mind.
Furthermore, our team of dedicated professionals is always ready to go the extra mile to meet your specific needs. We prioritize clear communication and attentiveness to ensure that every step of the process is seamless for you. From initial consultations to installation, we provide personalized service tailored to your requirements.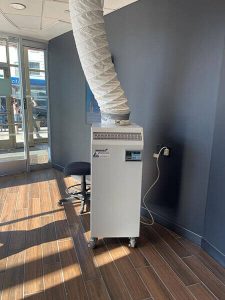 Don't let the heat impact your business operations. Take action today and get in touch with Neat Heat & Cooling. Beat the heat with our top-of-the-line cooling solutions that are tailored to your commercial needs. Experience the difference our reliable equipment can make for your workspace!
Contact us now at (516) 253-5309 or visit our website at neatheat.com to learn more about our cooling equipment rental services. Let's work together to ensure a cool and comfortable environment for your business. Don't miss out – make the smart choice and stay cool with Neat Heat & Cooling!
#CoolingEquipmentRent #TemporaryCoolingSolutions #PortableAirConditioning #StayCool #CommercialCoolingSolutions #BeatTheHeat