Our 12 Ton Portable Air Conditioner!
Our air conditioner rentals can be utilized anywhere cooling is needed on an immediate or ongoing basis and our portable air conditioners come in a wide range of sizes that can be aggregated to cool any size space.
One of our most powerful units is our 12 Ton portable air conditioner.
Our 12 Ton portable air conditioner is a powerful and efficient unit designed to operate in outdoor environments as well as interior spaces. It is ideal for supplemental or temporary cooling of industrial, commercial, institutional, and construction sites and special event areas. High static blower motors allow flexibility in ducting the supply and return air outlets for efficient operation.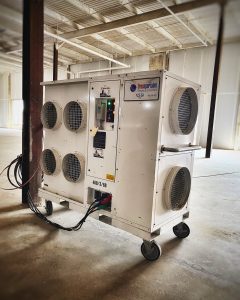 Easy-open door latches allow for quick access, vibration isolators at the compressor connection points to prevent refrigerant leaks, heavy-duty lockable casters, and a heavy-duty powder coated steel cabinet. A weather-tight electrical control panel and Cam Lock power connectors are mounted on the side for easy access. This unit is designed for ease of use and rugged dependability.
We also carry the 12 Ton Slim Line which is narrower and a great choice for tighter spaces.
Neat Heat and Cooling's portable air conditioners and spot coolers are ideal for supplemental, emergency and temporary cooling.
We can provide temporary air conditioning 24/7.