Planning and Emergency Preparedness
Neat Heat and Cooling has a variety of emergency cooling equipment ready to deploy in case of an emergency or an unexpected breakdown in your area. Are you planning to have cooling equipment maintenance, renovations and/or replacement of an existing cooling system? This may require a shut down, and if you wish to not disturb the building/occupants and the day to day workings we are here for you. Having Spot Coolers and Temporary Cooling equipment to ensure you are still operational is key. We can provide the relief your building needs to protect the facilities' environment and prevent loss of business due to the rising temperature disturbing your place of business.
Cooling equipment rental planning in the event of abnormal climatic temperatures is what you should be thinking about. Most Air Conditioning units break down during temperature spikes because it puts an additional amount of load on your current Cooling System. However, planning ahead and having additional portable air conditioning units or temporary cooling equipment can help relieve the load on your system. Having backup units on hand will help deal with unknown problems. Contracting these machines for deployment will give you the relief you want knowing that if all else fails the cooling relief is just one phone call away. Neat Heat and Cooling also provides Cooling equipment Rentals, Industrial Generators and ventilation systems to complete your cooling relief in case of an emergency.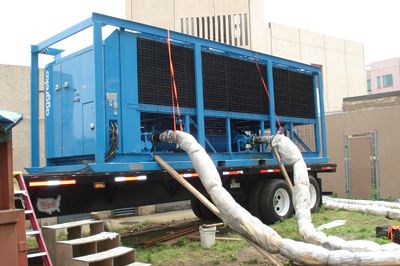 We have assisted a number of companies in the tri-state area who have experienced a loss of their permanent air conditioner system and needed temporary air conditioning service. We can handle any emergency cooling situation as this is our specialty.
A sampling of emergencies we can help with include: Unexpected severe weather conditions, broken central air conditioners, electricity outages and more…..