If you face planned equipment shutdowns, equipment failure, have a need of supplementing existing equipment or perhaps you have a new construction project or an event then renting HVAC equipment may just be what you need!
Neat Heat has been a major player in HVAC Equipment Rentals and Installation.
We specialize in:
Emergency Heating and Cooling
Temporary Heating and Cooling
Special Event Heating and Cooling
Tent Heating and Cooling
Temporary Boiler Rentals
Ground Thawing
Dehumidification and Humidification
Air Scrubbing
And more!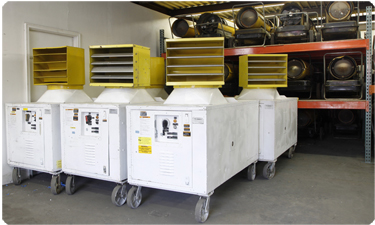 Renting as opposed to purchasing equipment can have many advantages. When you are renting HVAC equipment, any non-working unit will get repaired or replaced for normal wear and tear at no additional charge to the customer.  Our trained technicians are there to support you throughout the rental period! Neat Heat & Cooling includes all 24/7 service for any non-working rental unit onsite.  Once finished with rental period we will pick-up all equipment and you do not need to worry about any storage.
If you are looking for a creative temporary solution, we can help.
We have used our climate control expertise to regulate the temperature, humidity level and air quality levels for thousands of applications.