Portable dehumidifiers are essential tools in the aftermath of recent flooding events.
Flooding not only causes immediate damage to homes and buildings but also creates a long-lasting problem in the form of excessive moisture and humidity. These conditions can lead to the growth of mold, mildew, and other harmful microorganisms, posing serious health risks to occupants. Portable dehumidifiers play a crucial role in mitigating these risks by efficiently extracting excess moisture from the air and promoting a healthier indoor environment. They help prevent structural damage, protect valuable belongings, and aid in the recovery process by accelerating the drying of affected spaces. In times of flooding, portable dehumidifiers are indispensable tools for safeguarding both property and health, making them an essential addition to any disaster recovery.
Neat Heat and Cooling has powerful industrial strength portable dehumidifiers that can assist in drying out spaces, protecting equipment from excessive moisture conditions as a result of floods, storms and unexpected situations. Deploying temporary dehumidifiers supplied by Neat Heat and Cooling can minimize moisture damage, effective mold remediation, and elimination of odors and contaminants; reducing overall interruption time.
Installation and set-up is quite simple; roll the portable units into place, set up the condensate hose to a drain, plug the unit in and turn it on. A humidistat starts the portable dehumidifier upon a build-up of humidity in the room and stops when the set point is reached.
Our portable fans can also be used to optimize the dehumidification process.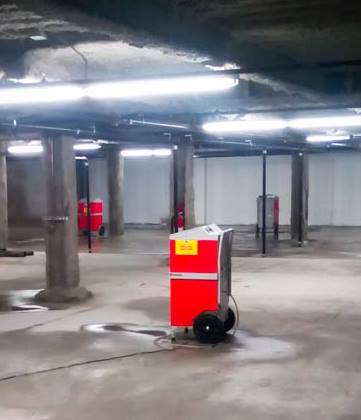 A NEAT HEAT & COOLING SALES REPRESENTATIVE CAN REVIEW YOUR REQUIREMENTS WITH YOU !
24/7 EMERGENCY SERVICE AVAILABLE