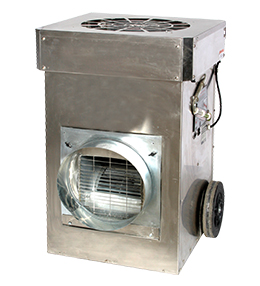 Air scrubbers (also commonly referred to as negative air machines and HEPA Filtration Systems) are primarily used to remove suspended airborne particles and fumes from the environment at a particular site. Air filtration machines when used with the appropriate filters, an air scrubber can work wonders. Neat Heat's portable air scrubbers require very little set up. We stock units of various sizes, ranging from the ultra – portable 500 CFM, to the 1,000 CFM and 2,000 CFM size.
Utilizing three layers of HEPA filtration, Neat Heat and Cooling's temporary negative air machines can remove dust particles, sawdust, and other suspended particulates from the air. Carbon permanganate filters can help remove noxious odors from water damage, mold remediation, smoke residue, paint, stains, as well as solvents and cleaners and other VOC's (volatile organic compounds) from the air and help freshen up any space, including occupied areas such as working offices, lobbies or other occupied spaces.
Our temporary portable air scrubbers can be used in many phases of construction including concrete resurfacing, drywall work, painting or any job where it is necessary to remove excessive dust.
The HEPA filtration units we provide are perfect in assisting with aftermath of water damage from floods and other natural disasters. Disaster restoration and mold remediation projects can release significant quantities of particles, bacteria, mold and fungal spores and odors into the air, especially during and following the use of high speed air movers to dry wet floors, carpets and furnishings. Indoor air pollutants such as these affect the health and comfort of those occupying the space.
Our three stage air filtration systems can capture and remove such particles and improve the air quality in your location.
Industrial Air Moving Equipment is great for any air purification purpose. They can be used in occupied/unoccupied spaces.
Replacement filters are also available and we can also furnish heavy duty extension cords. Ducts can be supplied as well and can be used with the air filtration/negative air to move dust and desired particles out of the space.
Call us at 516-253-5309 for a consultation on your application and we can discuss what type of HEPA filtration unit rental would be best for your situation.
We ship all HEPA filter negative air machine equipment on a moment's notice.
Learn More about Temporary Heating for Construction Sites